If you've made it as far as our blog and this post specifically, I think it's safe to assume that you have navigated a majority of our website and learned a lot about our organization. In June 2017, while managing the design of our new website, one of the ideas that was thrown around our boardroom for our 'Team Bio' page, (which would later become our 'Culture' page), was that we needed to find a creative way to show our team.  One of the things I've learned in this business, is that Snagged is only as great as the people we employ, and this was my inspiration for choosing a 'fun picture' for a hover-over effect when people want to get to know our staff.
It seemed like a no-brainer, I really wanted to introduce our staff to the world, and my ultimate goal was to expose our team and culture to anyone who was interested in learning more about us.  The fun picture aspect really took off, and so then we scheduled a day for everyone to bring in their favourite item that represents their hobby and/or passion.
This proved to be a difficult task for me.  I mean, I have a number of hobbies, but none that I am truly passionate for that I would consider branding myself with.  I wanted the image to speak numbers about my personality, I wanted it to express who I am, and what I'm all about.  Maybe I overthought the idea, but I was determined to come up with the perfect item that I could use in my picture that would give any visitor to our website an exact concept of who Mike Lafreniere really is.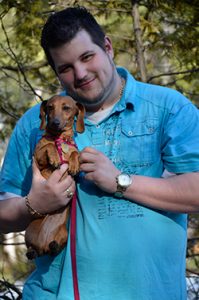 Sitting in my home office, trying to come up with the best idea from a list of about 8-10 of my favourite hobbies, my little dachshund Hailey wandered into the office and made her appearance known with one of her squeaker toys.  Immediately the clownish behavior that is Hailey helped me narrow in on exactly what I wanted in my picture, an idea that wasn't even on my list to begin with.  A dog breed that is known for devotion, loyalty, determination, playfulness, and being incredibly stubborn, I finally made my decision and sure enough my two beautiful dachshunds would accompany me to the office for my official photo shoot.
If you've ever met a dachshund, you will surely fall in love with their personality, and now that I sit back and look at the whole situation, it really should have been a no-brainer from the beginning.  Since the photo shoot, Hailey and Bella have both found their way into a few different parts of our website, but I'll let you explore and see if you find out where else they are hiding.