Google Analytics has the power to track almost anything on your website. As confusing as it all may seem, these numbers are important because they provide insights on your website's performance, who is visiting your website, how people are finding your website, and so much more! Creating monthly reports summarizing this data can really help you discover what works well and what needs improvement. Here are some of the most critical pieces of data you should be paying attention to:
Note: the following images are screenshots of data I've collected from a client of ours, Aquacade Pools & Spas.
Pageviews
Pageview data can be found under the audience overview tab in Google Analytics. Pageviews tell you the total traffic brought to your website; specifically how many times each page has been viewed. Repeated views of a single page are also counted!

If you're looking to increase the exposure of your website, the pageview data is a great way to find out if you're reaching that goal. If you're falling short of that goal, you can assess your marketing strategies to determine the best way to reach it. (Hint: if you go to the acquisition overview tab, you can see the channels your audience came from! For example, if most of your visitors came from social media, post more links to your website on your social media pages to increase visibility.)
When comparing your pageviews to previous months, you can define trends such as the months/seasons your website receives the most visitors. You can also determine the growth of your website!
Sessions
Sessions record user interactions within your website. A session can involve multiple pageviews, ecommerce transactions, events, and more. A session is tracked until there has been 30 minutes of inactivity, a campaign change, or when the clock reaches midnight. The average session duration is also measured in Google Analytics, which gives you an idea of how long people are spending on your website.

It's important to pay attention to your sessions and average session times because it can help you determine audience engagement.
New Users
New users are users who have never visited your website before. Located in the audience overview tab, this can be an important metric to track if your marketing goal is to maximize exposure.

Leads
Leads are typically measured through WordPress rather than Google Analytics, and are tracked manually by you. If you have forms on your website (quote request forms, "contact us" text bubbles, etc.), you can measure leads by simply filtering the data for a specific month and viewing the number of inbound messages at the bottom of the page. "Inbound messages" are the submissions received when someone fills out the form on your website expressing interest in your services or asking a question. If your leads continue to grow monthly, this means your marketing is working!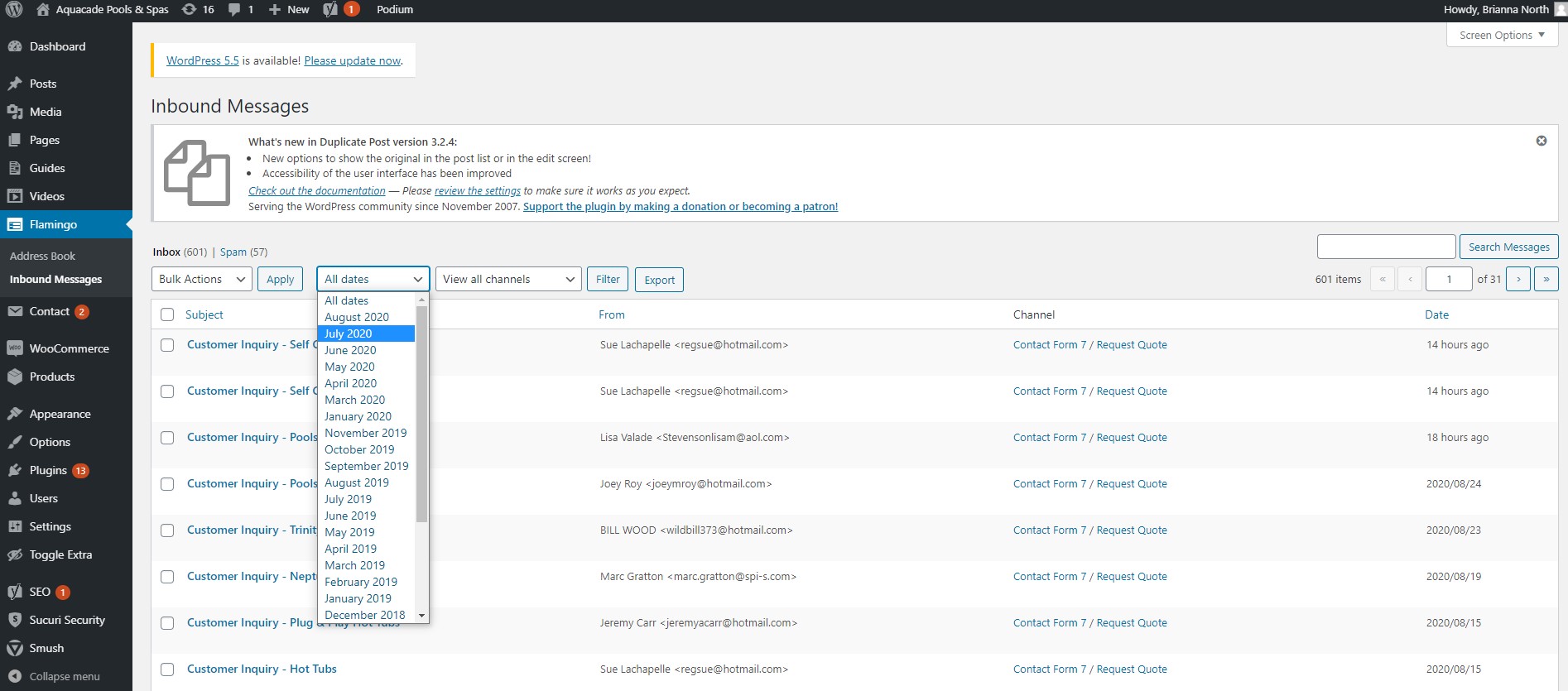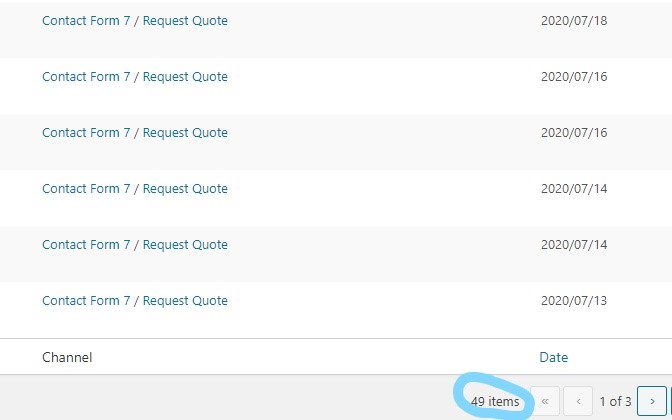 Top Viewed Pages
Under the behaviour overview tab, you can get a breakdown of the pageviews for each individual page on your website, ranked from highest to lowest. This data provides you with insights into user behaviour, and can help you understand why some pages are higher or lower than others. Are the pages with the least number of views difficult to find? Are there too many steps before users reach those particular pages? Why do some pages outrank others in views? Do the pages with the highest views garner more interest?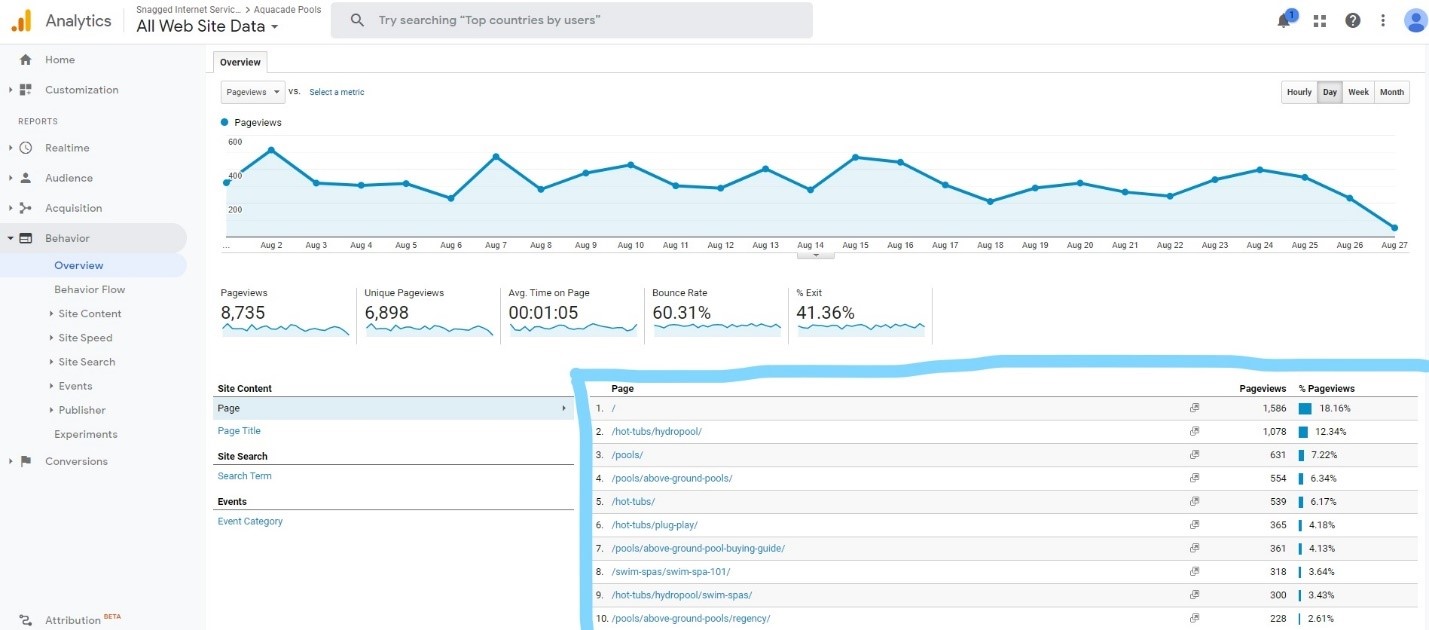 Bounce Rate
The bounce rate measures how many users left your site without performing any actions. They are single-page sessions that are timed at 0 seconds. If your bounce rate is higher than average (more than 60%), and your website relies on users visiting more than one page before a conversion happens, assess why users are dropping off so you can decide how to lower it.

Bonus: under behaviour – site content – all pages, you can view the bounce rate of each individual page.
Top Channels
As previously mentioned, you can find top channels under the acquisition overview tab. This is displayed as a pie chart and tells you how people found your website. The "top channels" view is a general overview, but you can change the primary dimension to "top sources" or "top mediums" for a more specific breakdown.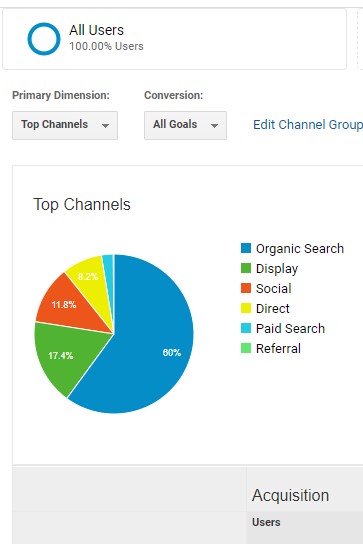 Conclusion
If you have a website, you should always measure your results. Google Analytics is a free platform, and by placing their tracking codes on your website, you'll have access to valuable insights about your audience. If you're looking to get started with Google Analytics, we'll be glad to help!