Born and raised in the heart of Toronto, six-month resident of Greece, married in a castle and now calling Northern Ontario home. How did it all happen?
Let's start at the beginning; not the very beginning but somewhere in between and relevant. Most of my youth was spent in Southern Ontario where snow doesn't arrive until mid-December to early January. I had a brief stint living in Greece as a child from the busy city of Athens to the beautiful serene countryside of Kalamata. Though our stay was short lived and we returned to Canada as it had won a place in my parental unit's hearts.
From a young age I was always very interested in creating something scratch. Whether it was building a LEGO high rise building with helipad accompanied by emergency landing lights (batteries not included) or doodling an abstract, out of this world space invader with pecs that would make even Terry Crews blast off into outer space, you could be assured I was always thinking outside the box.
Fast forward to the era of dialup internet and slow loading images, where my true love for the web emerged. It was from here I would create beautiful web pages with scrolling marquees, the latest video game reviews, and have the whole world see my work (at least 39 people according to my GeoCities page counter). I opted to use the code editor right away and disregard the page builder. Not only was I engaged in all things internet but I began tinkering and customizing anything that could be customized on PC.
This is all thanks to my dad, my hero, who now erases his system drive on a regular basis and frequently calls me asking how to uninstall an application, while sporting 8 different iPhone apps that can call internationally. Love you dad.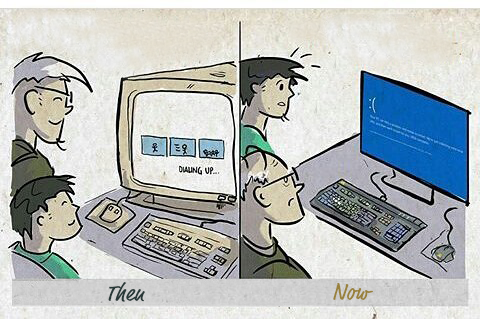 I ended up pursing my love for design and attended Durham College graduating with an Advanced Diploma in Multimedia Design. I freelanced for a small company in Toronto primarily as a front-end developer/consultant. This is where I transitioned from Windows to the Mac OS environment. Between that I was a video game junkie working at EB Games while simultaneously working at Starbucks Coffee to support those late-night gaming sessions.
This is getting long isn't it? Let's speed run this a bit.
$ rm -rf extended-blog-post.php
Met my wife at Starbucks, she took a job in Sudbury, I followed her up here like a good boy, landed a gig at Snagged as a Multimedia Specialist, moved up to Creative Director, got married at Casa Loma, flew out to Jamaica for the honeymoon, built a rad gaming PC, returned to work, bought a little house in Coniston where my wife and I live happily with our new dog Luna.
If you want to know more feel free to send me a DM on Linkedin or stop by the office and I'm sure we can fill up a few hours with my true origins story.
P.S. If your looking to game out on Overwatch or Heroes of the Storm add Kholdstare#1185