The office space grew on me quickly; the wooden accent walls made of palette board, the lattice dividing panels, the rustic lights and the black couch in the corner all made for a cozy atmosphere while retaining the professional business edge. It didn't take long before I started brainstorming ideas for the décor as if it were a space of my own (after all, I was going to spend most of my time here), and that's when the typographic poster came to mind. I asked the owner, Mike, if any quotes came to mind, and he said one helped him grow his business when all seemed to go south: "Never consider the possibility of failure. As long as you persist, you will be successful."
Clearly this held some meaning to him, so I was off to the drawing board for sketching and inspiration. While sketching, I explored some works of designers I looked up to such as Jessica Hische and Stefan Sagmeister for motivation. I knew the layout would be one of the most challenging elements of this project to make the words flow smoothly as a piece of art while avoiding illegibility. I also knew the fonts needed to be paired beautifully. As I researched, one word seemed to always have more presence in the type design examples, so I chose the word 'failure' as the important focus by making the word larger since I learned if there's no type hierarchy, the reader doesn't know what's the most important information on the page. Bold headings and sub-headings tend to guide the eye and this would be the equivalent.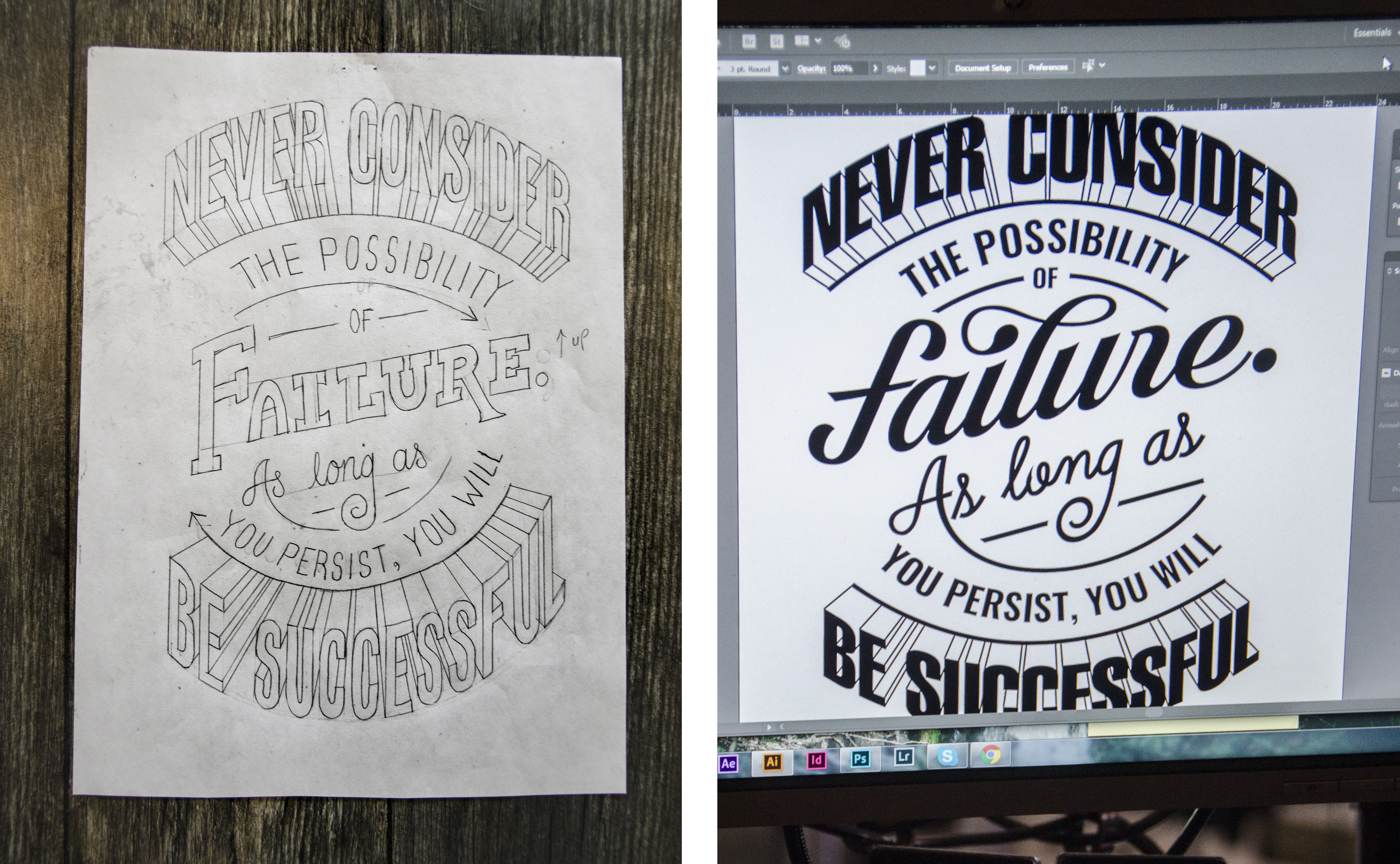 'Failure' is ironically a graceful word to me on a personal level despite its bad reputation and it should not be feared but rather welcomed because there is so much to be gained from it. Ms Frizzle from 'The Magic School Bus' taught me mistakes should be embraced as part of the learning experience and room should be made to have fun shamelessly. People are hard on themselves and I know not succeeding is painful and disappointing. Increasingly, in our society, we only celebrate success and not the struggles along the way. It breaks my heart to see loved ones forfeit on something important after one try. I ask questions to understand why we fail and to grow from failure, but I understand why Mike chose this quote to put on the office wall. A design studio works as a cohesive, collaborative unit and if someone becomes discouraged, their outlook affects everyone's workflow.
After the poster concept's approval by Mike, I took to Adobe CC Illustrator and vectorized my scanned artwork. By bringing in Snagged's corporate blue as the background just like in our case studies placards hanging on the office walls, the poster would be sure to tie into the office seamlessly near Mike's desk.
In the end, everyone seemed pleased with the result and as the new guy, I was filled with an increasing sense of belonging and fulfillment amongst my peers. I think all designers can agree seeing the printed hard copy of our work is always a rewarding experience.